Ingredients
For the cake
300ml unsweetened soy milk
1 tbsp finely ground/ground chia seeds
1 tablespoon lemon juice
1 teaspoon instant coffee powder
2 teaspoons vanilla extract
150g of vegan spread, such as Vitalite or Flora 100% Natural, melted
3 tablespoons of agave nectar
175g caster sugar
35g cocoa powder
300g self-rising flour
For the vegan ganache
200 g dairy-free dark chocolate (about 45% cocoa)
250ml double cream herbal alternative – we used Elmlea Plant
1 tablespoon of agave nectar
For the vegan buttercream, amaretto and jam
90g vegan spread
1 teaspoon vanilla extract
1 tablespoon unsweetened soy milk
2 1⁄2 tablespoons cocoa, sifted
180g icing sugar, sifted
4-8 tablespoons vegan amaretto
6 tablespoons good quality black cherry jam (see Tips)
Method
Heat the oven to 160°C convection/gas 4. Line the bottom and sides of the cake mould. In a large carafe, whisk together the soy milk, chia, lemon juice, coffee powder, vanilla, melted spread and agave nectar. Let stand 5 minutes (don't worry if it looks curdled).
Sift the sugar, cocoa and flour into a large bowl. Pour in the wet mixture, whisk with a balloon whisk until smooth, then pour into the prepared pan, smoothing the top. Bake for 45 minutes, then loosely cover with foil and bake for 25 to 30 minutes, until springy to the touch and a skewer pushed into the center comes out clean. Transfer to a cooling rack for an hour, then remove from pan and let cool completely (see Make Ahead).
For the ganache, put all the ingredients in a bowl placed over a saucepan of barely simmering water. Stir occasionally until melted (or microwave on medium heat for about 3 minutes). Remove from heat and leave in a cool place until it begins to firm up – this may take a few hours. To cool it faster, place the bowl in a larger bowl filled with ice water. Stir every minute or so to make sure it doesn't get too stiff – when you lift the spoon and gently let some ganache drip onto the mixture, it should briefly form a visible line (ribbon) on top.
For the buttercream, use an electric mixer to beat the spread until it whitens. Whisk vanilla and soy milk to combine. Add the cocoa and icing sugar, then beat until the mixture is pale and fluffy.
To assemble, use a sharp knife to cut cooled cake into 3 layers. Drizzle the cut side of each layer with 1-2 tablespoons of amaretto. (If you have time, put the basted layers in the freezer for an hour to firm them up and make assembling/decorating easier.)
Spread the top of the bottom and middle layers with half the buttercream each, then add half the jam to each, spreading thinly to about 1cm from the edge. Stack the cake layers using the undecorated one as a top, then transfer to a serving platter.
Use a palette knife to spread the ganache around the sides so they are well coated, then pile and swirl the rest on top. Leave the cake in a cool place for a few hours until it is firm enough to cut.
delicious. tips
Use any EASY non-dairy milk you like – almond or oat work well. Swap the jam and liqueur if you like: try raspberry jam and raspberry liqueur, or marmalade without chips and orange liqueur.

Bake the cake and store (undecorated) in an airtight container at room temperature for 3-4 days – or wrap tightly and freeze for up to 3 months. Once assembled, the cake will keep for 2 to 3 days at room temperature.
Subscribe to our magazine
Subscribe to delicious. HALF PRICE magazine
Subscribe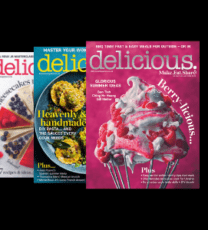 Join our newsletter
Filled with menu ideas, recipes, latest contests and more…
Lost my password
Enter the email address associated with your
account, and we'll send you a link to reset your
the password.
Email sent
If an account was found for this email address,
we have emailed you instructions on how to reset your
the password.
Thank you for subscribing to our newsletter
Now you can stay up to date with all the latest news, recipes and offers.
Subscribe to our magazine
Subscribe to delicious. today for just £13.50 – it's HALF OFF!
[mc4wp_form id="28909″]
Confirmation
We have sent you an activation link,
please click on this link to activate your account.
Manage cookies